Crowdsourcing Physician Recruitment
Community recruiters help Grafton, North Dakota recruit and retain more health providers.
By Stacy Kusler on
Grafton, North Dakota, is a town of about 4,200 people located 40 miles northwest of North Dakota's third largest city, Grand Forks. Grafton is a farming community with the basic amenities of a small town: a movie theater, grocery store, a couple of banks, gas stations, and a funeral home. It's also home to Unity Medical Center (UMC), which is a 14-bed critical access hospital with an attached clinic. UMC has recently evolved into a rural healthcare beacon for provider recruiting. During the last 12 months, UMC has recruited two physicians, a physician assistant, and a nurse practitioner, all by using its number-one resource—the community members.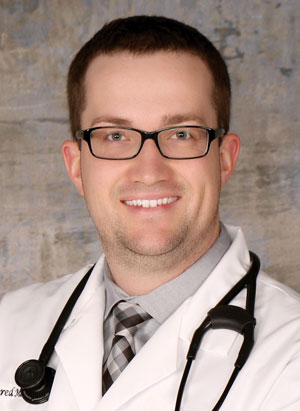 Jared Marquardt, MD, was in the middle of his family medicine residency program in Bismarck, North Dakota, when he decided he needed to get serious about finding a practice location. As a North Dakota native, he was a highly sought-after candidate. Additionally, with family ties to the state for both him and his wife, and a desire to work in a rural setting, he checked all the boxes for a recruitable and retainable physician for North Dakota. When Alan O'Neil, CEO of UMC, heard Dr. Marquardt was looking for a rural job opportunity, he didn't waste a moment contacting him...and contacting him again...and again.
"He was persistent, that's for sure," Marquardt said.
O'Neil made multiple trips to Bismarck to meet with Marquardt. On one occasion, O'Neil brought along Jo Petersen, the current UMC board president.
"We left for home after dinner, and the entire four-hour drive was spent talking about how we could get him to come to Grafton," Petersen said.
That's when the idea of a community letter-writing campaign was born.
O'Neil and Petersen know that Grafton's community members are their biggest and best resource. If they could communicate to Dr. Marquardt that the community wanted and him and his family in Grafton, that might be the missing piece to the recruitment puzzle. The UMC Board of Directors discussed the idea of a letter-writing campaign at its next meeting, and a plan was formed. Community members, including board members, grocery store owners, school superintendents, pastors, the county judge, and even the mayor, wrote letters to Marquardt and his wife encouraging them to choose Grafton as their home.
"In my letter to Jared and his wife, I just communicated that I was once in their shoes," Petersen said. "I was once a new member of the community, and I'm still here over 30 years later. What kept me here was the sense of community. What better way to show them that the whole community wanted them to be here, not just the medical center?"
I still have all the letters. It was surprising. The personal touch definitely stood out to us.
"I still have all the letters," Marquardt said. "It was surprising. The personal touch definitely stood out to us." Marquardt and his wife visited Grafton a few of times before deciding to take the job, and experienced the welcoming community members in person. "I wasn't just told about the community members and leaders. I was actually able to meet them and talk with them on multiple occasions, which was different from other places I visited," Marquardt said.
O'Neil was pleased that it was so easy to encourage people to write the letters to Dr. Marquardt and his wife. He knew it would be a challenge to get the Marquardts to commit and that encouraging Dr. Marquardt's wife, Annie, was perhaps a larger factor than Dr. Marquardt himself. UMC had been coached on paying close attention to spousal recruitment through its participation in a project supported by the North Dakota Center for Rural Health called the Community Apgar Project (CAP). The project, which helps communities identify areas of strength and opportunity as it relates to family physician recruiting, identified spousal satisfaction as one of the most challenging factors in recruiting and retaining physicians.
"We really paid attention to what Annie was looking for," said O'Neil. "I think that's why the letters worked so well. They were addressed to both of them and helped them gain a sense of what kind of community they were considering."
Marquardt said that even though the letters stopped, the community support still remains. He signed on with UMC in April 2016, and he officially started seeing patients in July of 2017.
"To this day, I am still surprised by the appreciation from the community members," he said. "I still hear almost every day 'Thank you for being here. We want you here. We want you to be happy and to stay.' It's humbling to hear that."
Another family physician who recently signed on full time with UMC credited the welcoming and appreciative community members as a big factor in his decision as well. Dr. Matthew Viscito owned and managed his own practice in Grand Forks but had been working at UMC for two days a month for a little more than a year. His patients at UMC repeatedly asked him if and when he would see patients in Grafton full time. The decision to let go of his own practice was made easier knowing he would be able to serve a community like Grafton.
"Knowing I could come to a place that needed and wanted my services was a good feeling," Viscito said.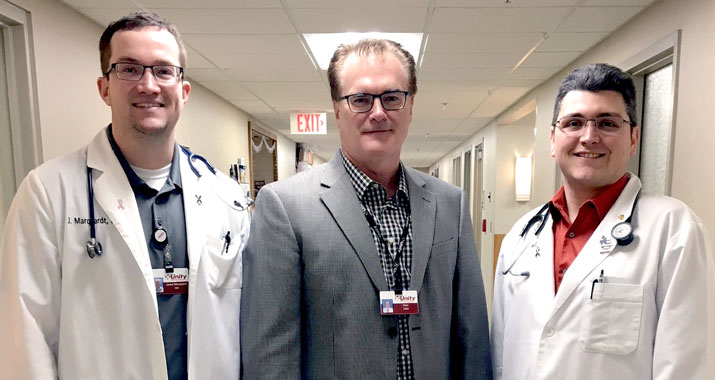 Dr. Viscito, who is now the medical director for UMC, sees many dividends for UMC and noted the healthy snowball effect that can come from it. The annual UMC Foundation Auction, for example, is the hospital's annual fundraiser. This year, the event raised more money than ever before.
A community can really get behind positive growth, which was seen at the auction this year. We're part of a community and we need their support. Their support, in turn, makes it easier to recruit.
"The community sees positive growth at the clinic and hospital, and that growth helps the community," Viscito said. "A community can really get behind positive growth, which was seen at the auction this year. We're part of a community and we need their support. Their support, in turn, makes it easier to recruit."
As for what's on the horizon, UMC is working to add at least one more physician to the practice and will again rely on their strongest asset, the community, as part of the recruitment effort. They may also be looking for a larger venue for next year's foundation auction.
This article originally appeared in the Fall 2018 issue of North Dakota Medicine.
---