Lessons Learned During Rotations
By Stacy Kusler on
As the healthcare career landscape has shifted dramatically to a job-seeker's market, how do healthcare employers find employees in tumultuous times? Recent graduates of the University of North Dakota (UND) School of Medicine & Health Sciences physical therapy doctorate and occupational therapy doctorate programs shared some insights about how their programs, and clinical training, prepared them to enter the job market. Their varied experiences and workplace communities shaped how they chose to begin their professional careers.
A Shift in Mindset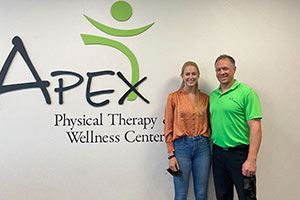 Madysen Kouba, Doctor of Physical Therapy (DPT), grew up in rural Lankin, North Dakota. During her time with the Department of Physical Therapy at UND, Kouba and her classmates were each required to complete four 9-week clinical rotations that gave them a well-rounded look at the profession of physical therapy. While students can request rotation in certain cities or practice settings, it's often not in their control where they are placed.
There are times when students complete a clinical education experience at a location that was, quite frankly, never on their radar.
"There are times when students complete a clinical education experience at a location that was, quite frankly, never on their radar," said Cindy Flom-Meland, UND professor and chair of the physical therapy (PT) department.
That was the situation Kouba found herself in when she was placed in a clinical rotation where 75% of the patient population was coming in for pelvic health physical therapy. "I was set on doing pediatric PT after graduation, and so I went into the [pelvic health] rotation very closed-minded," Kouba said.
By the end of her 9-week experience, though, her mind was changed. Not only did she come to understand the importance of pelvic health; she was also influenced by the workplace culture of the organization. During her training, Kouba said she felt like she was treated more like a colleague than a student, and that, in turn, helped her feel more confident to ask questions and make the most of her rotation.
I am really looking forward to creating relationships with patients, and building a base of patients that know me.
"The entire staff was welcoming and they took a lot of time to get to know me," Kouba said. She enjoyed her rotation, and the practice of pelvic health PT, so much that she accepted a job with the same organization. "I am really looking forward to creating relationships with patients, and building a base of patients that know me," Kouba said.
Significant Experience
Ashley Osbjornson graduated as part of the inaugural class of UND's Occupational Therapy Doctorate (OTD) program. She is one of 53 graduates from the 2022 class. Like DPT students, OTD students are assigned fieldwork experiences throughout the program to learn about different types of practice settings and patient care. For Osbjornson, one particular fieldwork experience in rural Minnesota will stick with her as she considers what type of practice she wants to eventually enter.
"I was able to do home health as part of my rotation, and it really opened my eyes to caring for patients who were poorer. They needed care but couldn't afford it," she said.
Rural healthcare has a special place in Osbjornson's heart. Growing up, her grandparents had many health conditions that required care, and she came to realize the importance of having rural healthcare providers available locally. UND's focus on rural health, and training students to be able to serve patients in areas of need was a big draw for Osbjornson.
Sarah Nielsen, associate professor for the occupational therapy department, says this is intentional.
"Our curriculum is designed so that students are always thinking about rural practice," she said.
I would love to go to patients who cannot leave their homes. Everyone deserves care.
Osbjornson's home health experience seemed to be the link to providing the type of care she has always understood as important, and what the UND curriculum has helped her learn.
"I would love to go to patients who cannot leave their homes. Everyone deserves care," she said.
Help and Guidance
While employers can easily conclude if a resume or interview is good or bad, they might not often think about how students are educated and prepared on the topics of resume building, interview skills, or connecting and communicating with employers about a job.
Mike Duginski, one of 51 DPT graduates from the 2022 class, feels confident as he enters the job seeking phase of his career.
"During the last semester of the program, we had an entire class on how to write a resume and how to build a portfolio," he said.
With help from both UND Career Services, and his clinical instructors, Duginski said he never felt like he didn't know what to do. "The UND PT website posts open jobs, and it's important, and nice, that UND set up our various rotations [because] I received different job options from that, too" he said, adding that creating a LinkedIn profile has also helped him connect to more job offers.
From Student to Employee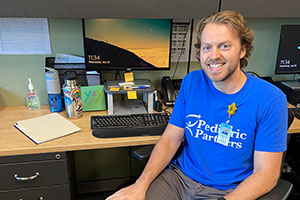 Ben Germolus, OTD, is a native of Bismarck, North Dakota. He chose UND for his graduate degree because of reasonable tuition and the draw of being closer to home. Since entering the program, Germolus has focused on eventually providing pediatric occupational therapy.
Germolus was luckily paired with a private pediatric clinic in Bismarck for his doctoral project and corresponding clinical experience. His project involved working closely with all aspects of the clinic, its patients and parents, and clinic management to develop a summer camp for kids. At the end of his experience, the clinic offered him a job.
"The selling point for me was the interaction with management," he said. "The staff had an open door policy and I could go to them with any questions I had. They do a good job of mentoring new graduates, and they want everyone to succeed."
While Germolus still considered other jobs, and looked at other offers, he ultimately decided he had everything he wanted and needed in his former clinical site and accepted a job that begin in July of 2022.
Salary Versus Culture
Students closing in on graduation have a lot to consider as they train and prepare to enter the workforce. Overwhelmingly, the students who shared about their experiences were deeply influenced by their clinical training experiences, and by the interaction with supervising staff at the clinical sites.
As healthcare facilities compete to hire workforce, the seemingly easy thing to do is increase salary and compensation offers. What staff at the UND Center for Rural Health have learned through conversations with our newly graduated OT and PT students, though, is that positive training experiences and an inviting and supportive workplace culture outweighs the dollar amount. Facilities need to not only think about how to recruit, but also how to retain valuable employees. Finding the right fit early on can help with successful staffing in the long run.
---