NICOA Solidifying Partnerships with Local Tribes, Programs
By Brenda Haugen on

When Larry Curley, the executive director of the National Indian Council on Aging (NICOA), visited North Dakota earlier this year, the trip provided an opportunity for him to see firsthand the programs in place to help Native American elders. Curley not only met with staff from the Center for Rural Health's National Resource Center on Native American Aging (NRCNAA), he also joined them on tribal visits across the state. Issues such as the growing prevalence of Alzheimer's disease and disabilities in Indian Country were a few of the topics he discussed with NRCNAA staff.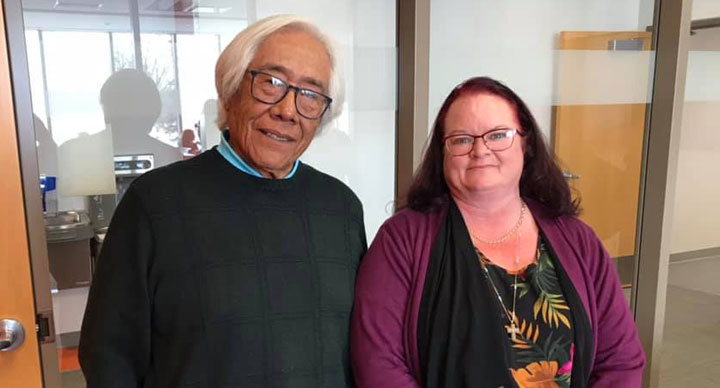 A member of the Navajo Nation, Curley has been involved in the aging and healthcare fields for more than 40 years. He's been instrumental in working with the federal government and national organizations to garner support for programs affecting Native American elders. Early in his career, Curley worked as a nursing home administrator for a tribal long-term care facility. He also served as a hospital administrator in Nevada and as a college instructor at the University of Nevada - Reno and Eastern Washington University. He was chosen as assistant dean of the Four Corners region for the Burrell College of Osteopathic Medicine and served as director of program development for Rehoboth McKinley Christian Health Care Services in New Mexico.
As a lobbyist in Washington, D.C., Curley successfully pushed for the passage of Title VI of the Older Americans Act (1978), an amendment which he wrote. The Title VI legislation established programs providing nutrition and support services for American Indians, Alaska Natives, and Native Hawaiians. In 2000, caregiver support services were added to the legislation. Title VI programs provide grants to eligible tribal organizations to promote community and home-based support services – including nutrition services and support for family and informal caregivers – for Native elders.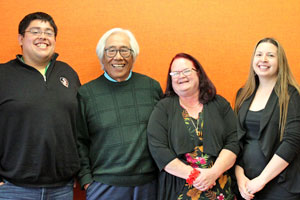 It's because of Title VI that programs such as the NRCNAA exist. During his visit to North Dakota, Curley, NICOA Executive Assistant Cheryl Archibald, and Cole Ward, NRCNAA project coordinator, traveled to New Town, North Dakota, to talk with Polly Chase, the Title VI director for the Mandan, Hidatsa, and Arikara Nation. Chase discussed her program, how it functions, and answered questions about the Meals on Wheels Program that many communities utilize. Curley was also interested in what else Chase needed for her program to meet the evolving needs of the elders.
"It was really important for Larry to visit with the Title VI programs and to hear their stories," said Collette Adamsen, director of the NRCNAA. "He now has a better understanding of where their needs lie and a better sense of the forefront issues of our Native elder programs."
Curley, Archibald, and Ward traveled the following day to Spirit Lake, where they met with Heather Lawrence, the Title VI Director for the Spirit Lake Tribe, and Michelle Meyer, senior project coordinator for the Native Aging in Place Project at the CRH.
"We discussed the projects Heather and Michelle are currently working on and the future projects they envision," Ward said. "I was very impressed with Larry. He genuinely cared about what Heather was saying, and never interrupted her as she spoke. He reassured her that NICOA was available to help and provided contact information for people he thought could provide answers."
We both have common goals in advocating for our Native elders.
"Larry's visit was important because it is building partnerships between Native elder-focused programs. We both have common goals in advocating for our Native elders. Therefore, it is so important to develop these collaborations to make us more powerful in accomplishing our objectives in serving our Native elder populations," Adamsen said. "In the past, we have attended NICOA conferences and presented with some members of NICOA at the American Society on Aging conference, but going forward, we plan to work together more. We are going to partner on some future projects for Native elders throughout the nation. We are developing a memorandum of understanding together to solidify that partnership."
Curley said he wanted to meet with the NRCNAA to redevelop that relationship so both organizations can work together and move forward. "We have a lot of issues that we're dealing with. The reauthorization of the Older Americans Act is coming up and we've put together a legislative agenda that we're going to be pushing. Organizations like North Dakota and UND are a vital part of that process," he said.
Along with solidifying partnerships, Curley's stop in North Dakota helped assure local people and programs that they are important and haven't slipped off the national radar.
The man who wrote the Title VI legislation...was at our doorstep reassuring Native people in North Dakota that they are not forgotten.
"In my mind, Larry's visit was important because North Dakota is often forgotten about in D.C. and in the minds of national agencies," Ward said. "The man who wrote the Title VI legislation for Natives and now is the executive director at the NICOA was at our doorstep reassuring Native people in North Dakota that they are not forgotten."
"I felt very honored and humbled to have Larry visit with our program," Adamsen said. "I'm so excited for the future work we will be collaborating and partnering on. He is someone that we can learn from, and I respect him very much. He has so much knowledge to share. Larry is a huge asset to NICOA, the NRCNAA, and Native elders overall."
This article originally appeared in the Fall 2019 issue of North Dakota Medicine.
---