Rural Relationships
Physician Assistant Fulfills Her Passion in Cooperstown
By Stacy Kusler on
It's an age-old question for rural healthcare facilities across the state and country. How do we attract new, young health professionals to our rural town?
One rural community in North Dakota has cracked the case by hiring a newly graduated physician assistant (PA).
Cooperstown Medical Center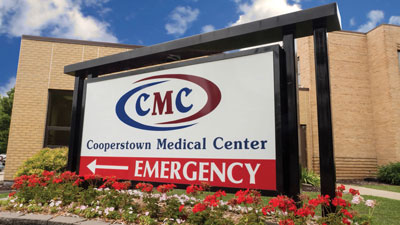 Cooperstown, North Dakota, is home to Cooperstown Medical Center (CMC) — a clinic, hospital, and nursing home all under one roof. In this rural community, local access to healthcare is vital for its patients, who would otherwise have a daunting travel schedule to receive even the most basic care. Cooperstown is located in the east central part of the state, 84 miles from Grand Forks, 65 miles from Jamestown, and 90 miles from Fargo.
Larissa Haug is CMC's newest PA, as well as the newest town resident. After completing the UND PA program in June of 2018, Haug began working at CMC in July, just weeks after graduation. She and her husband made the decision to move to Cooperstown rather than to commute from a larger town.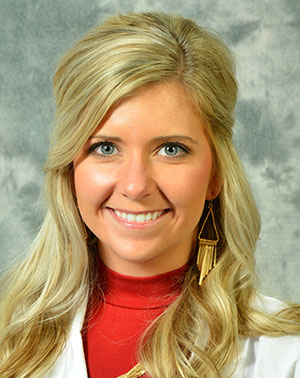 "I thought it was really important for us to live in Cooperstown," Haug said. "They have had some turnover in recent years, and patients needed to see a provider willing to commit and live in town. This was part of the discussion during my recruitment phase, and I am glad we did it."
Hailing from Neche, North Dakota, Haug has always had an interest in rural medicine. Although her hometown did not have a clinic, the nearest hospital in Cavalier, North Dakota, made a huge impact on her growing up. Specifically, she remembers the positive impression that the local team of rural providers and caregivers made while both of her grandparents received extended inpatient medical care.
"I remember the relationship my family all formed with the provider, and I thought it must be really special to have that with your patients," Haug said.
I remember the relationship my family all formed with the provider, and I thought it must be really special to have that with your patients.
This facet of rural practice has certainly carried through to this day. Although Haug has been practicing for less than a year, the highlight so far has been the relationships she has developed with her patients. "In rural practice, I feel that the relationships with patients are so much stronger," she said. "I feel very appreciated by my patients, and it's a huge honor to be trusted with their care."
Discovering Cooperstown
Haug did most of her clinical experience in Cavalier, a hospital and a team of providers she has been familiar with since she was a child. However, the Pembina County Memorial Hospital and Clinic in Cavalier didn't have a job opening for her, so her job search expanded to other rural areas of the state. She heard about a position in Cooperstown from a PA program classmate. The classmate's father, Dr. Jon Berg, is the medical director in Cooperstown. With nearly 40 years of practice experience, Dr. Berg visits Cooperstown monthly and serves as Haug's supervising physician and mentor.
"Being a provider is much different than being a student," Haug said. "It was terrifying to start, and I am continually double, triple, and quadruple checking myself to be sure I am doing everything right." Having support and using available resources has helped Haug's transition. She added that Dr. Berg has been a Godsend.
"In a rural practice, you're it, and you have to be resourceful to get patients the care they need," Haug said. "At first, I was worried about the opinions of others, and that if I needed to call anyone to ask a question, it would seem silly. You get over that quickly when you realize it's more important to provide the right care than to worry about sounding silly."
In addition to Dr. Berg's help, Haug relies on the nurse practitioner and director of nursing, as well as using phone consult capabilities with larger health systems in the state. She added that Avera eCARE Emergency (now called Avel eCare Emergency), based out of Sioux Falls, South Dakota, is a service she uses almost every time she is in the emergency room.
"It's a service CMC pays for no matter if we use it or not, so I use it for checks and balances, as well as help and advice when I need it," Haug said.
Recruitment AND Retention
The Center for Rural Health Primary Care Office and the North Dakota Primary Care Office concentrate not only on the recruitment of providers to rural communities, but also retention for years to come. In Cooperstown, Haug and her husband have already made the big step of purchasing a home, a good indicator of longterm retention. Furthermore, Haug is in the midst of applying to one of North Dakota's loan repayment programs, which will provide a monetary award to help pay off outstanding educational loans. This program offers financial support in exchange for two initial years of service in an underserved area of the state, with the option to renew the loan repayment agreement with additional years of service.
"I feel like North Dakota has a great focus on rural communities and helping them keep the healthcare services that already exist," Haug said.
As for her practice, Haug looks forward to building strong relationships with her patients and admires her colleagues who have established community roots already.
"I sometimes wish I had grown up here so I would know the background of my patients and their family members like I did in my clinical experience," Haug said. "But that will come with time. I know I'll get there."
This article originally appeared in the Holiday 2018 issue of North Dakota Medicine.
---