Air Force Veteran Finds His Place at the Center for Rural Health
By Brenda Haugen on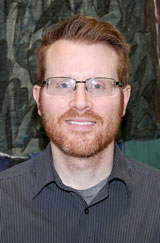 Shawn Larson's time in the military taught him a great deal about the world, other cultures, and himself. While the experiences he had in the Air Force were extremely valuable, Larson knew a lifelong military career wasn't his calling. So when he saw an ad for a job at the Center for Rural Health (CRH) at the University of North Dakota's School of Medicine & Health Sciences, and after meeting with CRH staff, he knew he had found his place.
Originally from Rolla, North Dakota, Larson's family moved to Devils Lake, North Dakota, after he finished the fourth grade. As a junior in high school, Larson decided on a military career.
I guess you could go back to the movie 'Top Gun' because that kind of got me started on planes and jets.
"I guess you could go back to the movie 'Top Gun' because that kind of got me started on planes and jets," he said. "I knew I wanted to be in the Air Force." Larson began serving his country in August 2000. Initially, he wanted to fly jets, but that's not the path he took. "I went in to do what was called 'crew chief.' That really caught my attention because 'chief' was in the title," he said with a smile.
The 18-year-old soon found he'd have to work his way up to being worthy of title. Essentially he did general aircraft maintenance in a training squadron in Little Rock, Arkansas. He was based in Little Rock his entire military career. He later found a computer had wiped his "dream sheet" clear, instead of showing he wanted to be stationed in Grand Forks or Minot.
"It was quite a shock when I got to Arkansas," Larson said, adding that he hadn't done much traveling before this point in his life. "Geographically and culturally it was quite different."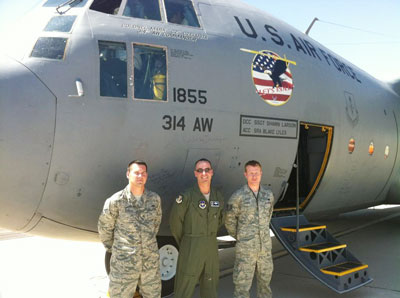 Larson worked on C130s and climbed his way up the ranks. He eventually reached the point in his career where he was flying with his wing commander. Larson was the dedicated crew chief, basically meaning "that aircraft was my baby. When [my wing commander] would fly, I would fly with him," Larson said.
Since Larson was part of a training squadron, those flights mainly involved training air crew and maybe flying five hours around the state. Then they'd land, and Larson would make repairs on the aircraft. Larson also flew along to air shows on occasion, taking care of the plane.
"That was fun," he said.
Larson served overseas as well. He had two six-months deployments in Iraq and spent a couple of weeks in Qatar. Though it was hot, Larson realized he was living an amazing experience, though he did miss the amenities of home. Because other countries' militaries were based in the same area, Larson had the opportunity to work with people from Italy, France, and Great Britain.
"It was really fun working with the British in particular, because I was able to solve some of their problems," he said.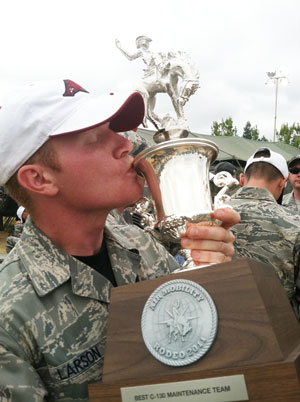 Although Larson was named Crew Chief of the Year in his squadron around 2010-11, he knew a lifelong military career wasn't the right path for him. Previously promoted to staff sergeant, Larson made tech sergeant right before he left the Air Force in July 2012.
"I had always wanted to come back, and I wanted to come here [to Grand Forks] specifically," Larson said. "I needed to get back home."
Larson finished his bachelor of arts degree in communication at UND in August 2016. He was working as an operations specialist with a credit union when he saw an opening for a project coordinator at the CRH. He said he immediately clicked with staff and felt comfortable.
"This is just the best," he said.
Among his responsibilities as project coordinator, Larson works with the senior project coordinator, Kylie Nissen, to support the day-to-day operations for several projects, including Scrubs, the Blue Cross Blue Shield Rural Health grants, the Community Health Needs Assessments, and National Rural Health Day.
Larson said he's enjoyed the projects he's worked on, and he understands how the various projects help rural communities. He said he loves being part of the process to help rural communities, reaching out to them with a message designed to meet their needs while also cultivating relationships.
"I grew up in a rural area, and that, to me, was a big thing," he said. He also enjoys traveling across the state. Larson recently attended the Carrington, North Dakota, Scrubs Camp.
It's neat to get back in the mind of an eighth grader.
"It was outstanding!" he said. "It's neat to get back in the mind of an eighth grader."
Many of the skills he honed in the military have led to success at the CRH. From Arkansas to Iraq, Larson gained experience dealing with a variety of situations and personalities. "You learn how to tailor your message to the individual," he said.
He also learned how to deal with deadlines and to move quickly and be innovative. "That's where I shined," Larson said. "Some of this stuff is already in you, but [military service] just really brings it out."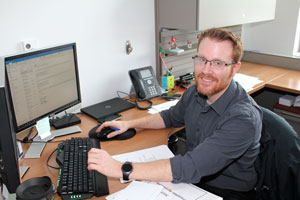 Larson also wants to do work that is important. While he served his country in the military, Larson also feels that he is serving rural communities with the CRH.
"Every little thing that I get started in refreshes that feeling. It's fun," Larson said. "And then you realize this is constant. This is going on throughout the year. You are going to have a constant refresher about why you are doing this and why you're having so much fun."
I don't think you should ever stop having role models for your life.
He also loves that he's encouraged to come up with new ideas to continually make the programs better. He said he looks forward to work every day and being around so many positive role models at the CRH who are passionate about what they do.
"I don't think you should ever stop having role models for your life," Larson said. "It keeps me at the top of my game, I think."
This article originally appeared in the Spring 2019 issue of North Dakota Medicine.
---