A Life of Service
Dr. Robert Rotering completes the circle, going from North Dakota to the Caribbean and Middle East, and back home again.
By Stacy Kusler on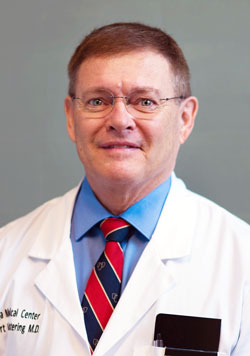 The shortest distance between two points is a straight line. The path Dr. Robert Rotering traveled from his roots in Amidon, North Dakota, to practicing medicine in Tioga, North Dakota, a distance of 196 miles, was anything but a straight line.
Robert Rotering, MD, is the chief medical officer at Tioga Medical Center (TMC) in northwestern North Dakota, a position he has held since 2016. For the 15 years prior to that, though, Rotering traveled the world. He started in Grenada following the U.S. invasion there in 1983, providing medical care and services to people in need through a global humanitarian relief organization called "Project Hope." He found the experience so fulfilling that he subsequently practiced medicine in exotic places such as Brunei and Dubai, practicing in emergency rooms, small clinics, and large clinic and hospital settings. He was in Saudi Arabia both during Operation Desert Storm in 1990 when Iraq invaded Kuwait, and in Operation Desert Shield in 1991.
At one point, I was the chief of surgery for an entire country.
"At one point, I was the chief of surgery for an entire country," Rotering recalled. He worked in places where the medical teams would wash their surgical gloves and reuse them and in 110 degree temperatures with the doors open and flies buzzing.
All of that is to say that for nearly his whole career, Rotering worked in places most people would want to avoid.
Why?
"Service," he said. "I have always been driven by a desire to serve where I was needed. Service is the personal reward I get from my experience of the medical profession, which is helping people along life's way. It's the reason I went into medicine. Serving where I am needed is the ultimate reward I get."
Starting Small
Rotering's hometown of Amidon had population of only 10 people back when he was growing up (22 currently), and was the smallest county seat in the U.S. From these humble roots, he went on to St. Mary's University in Minnesota and then to Rush Medical College in Chicago on his way to becoming a general and cardiothoracic surgeon. His training led him to a residency at the University of Utah, where he was the chief surgical resident and witnessed the first artificial heart transplant.
Still, Rotering wanted something more.
"I've never been interested in a competitive practice environment. I always wanted to be in a place of need," Rotering said.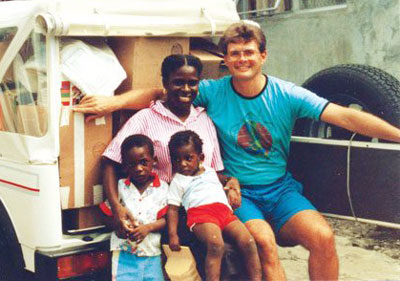 Then, a well-placed poster caught his eye when he was finishing his cardiothoracic residency, completely changing the trajectory of Rotering's career in medicine. The poster advertised "Project Hope," and the text "Doctor, Teacher, Friend to the World" was exactly the "something more" Rotering was looking for. He called the number on the poster, and the rest is history.
Flash forward to 2015. After working in developing nations for decades and helping thousands of people by providing medical care, Dr. Rotering had checked off the items on his bucket list. So he headed back to the U.S., again in search of a place where he was needed. His search narrowed in on his home state of North Dakota.
"I thought about the possibility of going back home to a place I loved, and always missed, to be of service," he said.
Continuing Service
Through a call to the University of North Dakota School of Medicine & Health Sciences (UND SMHS) Department of Family and Community Medicine, Rotering found out about a need at TMC.
Throughout my career, my desire to follow a calling to service has withstood. To find an opportunity to do this in my home state is really full-circle for me.
"Throughout my career, my desire to follow a calling to service has withstood. To find an opportunity to do this in my home state is really full-circle for me," he said. He started his new adventure with TMC in February of 2016.
Part of Dr. Rotering's practice at TMC involves teaching health profession students, including medical, nursing, and physician assistant students. It is both a service to students and a part of his job that he and his colleagues at TMC enjoy and embrace.
"We have students from many schools and professions on a continuous flow here at TMC, and it's positive for us all-around," Rotering said.
According to Drs. Bryan Delage and Kamille Sherman, co-directors of the Rural Opportunities in Medical Education (ROME) program at the UND SMHS, when administrators and physicians open up their facilities to students they see both short- and long-term benefits for their communities.
"Teaching facilities that see the value in teaching are much more likely to attract providers to that facility down the road," Delage said. "Furthermore, the providers have higher satisfaction in their jobs and oftentimes benefit from the challenge and interaction with students."
Sherman added that quality preceptors can leave a lasting impression on students.
"Dr. Rotering's broad understanding of medicine, garnered from his global experiences in healthcare, allow him to serve a rural community in a unique way," she said. "His example of integrating evidence-based practices into rural practice proves to our medical students that high-quality care can be delivered in a rural community."
Dr. Rotering's time spent with students always includes questions about his background and subsequent fascination about a life of practicing medicine abroad. If students show an interest in going down a similar path, he recommends they "go do it, and then come home. The opportunities in North Dakota and in rural areas are exceptional in terms of the important things in life. It is the best place to be in the nation, hands down. It's a great place to live and to practice medicine."
This article originally appeared in the Spring 2019 issue of North Dakota Medicine.
---