In-A-Box Program
Hands-on curricula ready for your classroom!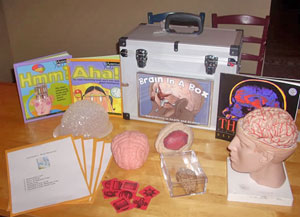 The In-A-Box Program provides current health and science activities to students in grades 4-12, to inspire them about the possibilities of a career in healthcare.
In-A-Box allows students to explore aspects of scientific careers, the body, and the environment through these self-contained "Exploration in Science and Health" kits.
Boxes are available for loan to North Dakota educators and health facilities, and for special programs like Scrubs Camps and career fairs.
Boxes Available
Bones & Muscles In-A-Box
Brain In-A-Box
Dentistry In-A-Box
Ear In-A-Box
Eyes In-A-Box
Guts In-A-Box
Nutrition In-A-Box
You May Request a Box Two Ways:
Funding
North Dakota's In-A-Box Program is funded by the Center for Rural Health. It was created by the Oregon Area Health Education Center and professionals at Oregon Health & Science University.
The Dentistry In-A-Box was made available through the North Dakota Oral Health Program.