Educational Resources for Loan
Request a Teaching Tool
The Center for Rural Health has a number of healthcare professions educational items for loan, and we encourage their use. Our goal is to provide tools to encourage the interactive learning and grow student's interest in healthcare professions. Upon completion of using an educational resource, we ask that you please complete an evaluation. These resources are available for North Dakota facilities/organizations only.
Featured Resource: Anatomical Phlebotomy Simulation Arm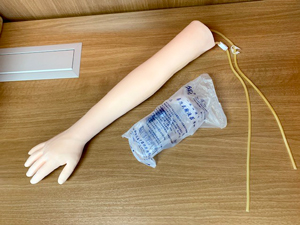 Each kit includes:
Adult-sized simulation arm
IV stand
Fluid containers (2)
IV tubing
This venipuncture practice kit is perfect for students learning how to place IVs and practice getting a successful stick every time. The practice arm feels real to the touch and its veins automatically reseal after a stick. The kit is ideal for educators hosting workshops with multiple students.
Note: Needles, gloves, and alcohol wipes not included.
Terms
There is no charge for this service, however, the borrower is responsible for any shipping cost to return the materials, as well as the cost to repair or replace damaged or lost items.
Items are available on a first-come, first-served basis.
Items are only available for short-term use. Items must be returned by the due date assigned or a late fee of $10 per week will be charged. If the item is not returned within 1 month after the due date, you will be billed the cost to replace the item.
Please package items well and consider insuring them. If items are returned damaged, you may be charged for the cost to repair or replace damaged items.
Questions?
Brittany Dryburgh
Project Coordinator
(701) 777-8002