UND Health Workforce Experts Share Research and Collaboration Efforts
By Jena Pierce on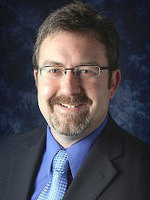 The University of North Dakota (UND) Department of Family & Community Medicine and the Center for Rural Health (CRH) have built a synergistic relationship that pairs research and service together to provide a stronger health workforce for the people of North Dakota. It is this collaboration and support that drew David Schmitz, MD, to the Department of Family & Community Medicine.
"All of the workforce efforts that are happening within the Department of Family & Community Medicine have grown due to the partnership with the Center for Rural Health and the State Office of Rural Health," said Schmitz. "That is part of why I came and interviewed for the job of department chair, because I knew that it was a great team focused on rural health and access to healthcare."
The Department of Family & Community Medicine and CRH are housed within the UND School of Medicine & Health Sciences (SMHS) and the faculty and staff who work on these efforts recently shared their work, with health professionals from across the state during the 38th Annual Dakota Conference on Rural and Public Health.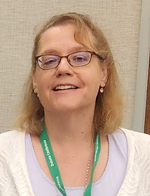 During this conference, which was held in Bismarck this past June, faculty and staff of the SMHS presented Rural Workforce: Innovations and Outcomes for North Dakota. Presenters included Schmitz, professor and chair of Family & Community Medicine, Kamille Sherman, MD, assistant professor of family medicine at SMHS, and Stacy Kusler, workforce specialist at CRH. The trio presented to more than 50 professionals from Critical Access Hospitals, Rural Health Clinics, public health districts, and other organizations, all looking for tools to improve recruitment and retention of health workers for their facilities.
Two workforce-specific programs were shared: Rural Opportunities in Medical Education (ROME) and Community Apgar.
ROME
The ROME program is a 20-28 week interdisciplinary experience in a rural primary care setting, open to Phase 2 (clinical training time with doctors throughout the state) students at UND SMHS. The program began in 1998 with two students.
"It's a program where students self-select," said Sherman. "Students are choosing to learn in a rural setting. Typically credit is given in family medicine, internal medicine, pediatrics, surgery, and ob/gyn."
Since celebrating the 20th anniversary of ROME in 2018, the program engaged a research partner to look at data and outcomes from the program in order track where the students have come from, and where they go after they finish the program.
"One of the outcomes we found is that more than 60% of students who choose to do the ROME program came from zip codes that are not urban," continued Sherman. "We're seeing that students who grew up in a rural community and attended a rural high school end up loving rural medicine. Another outcome is that about one-third of students who self-select for this program ultimately choose family medicine as a specialty. A third outcome is that a quarter of students who finish this program choose to remain in rural communities after residency and starting a practice. This is significantly higher than the national average of where physicians chose to work."
Original rural sites for the program included Williston, Dickinson, Hettinger, Jamestown, and Devils Lake. Since then, additional ROME sites have been added in Ortonville and Benson, Minnesota, as well as Grafton, North Dakota. Each medical school class has about 13 students enrolled in ROME and each class has a total of about 75 students.
Community Apgar Project
The Community Apgar Project originally began about 12 years ago when Schmitz was working as a family physician in Idaho. At the time, there was a maldistribution of physicians in the state, and he and others wanted to know why.
...through a research and service project, I was able to help empower communities to be more successful in recruiting and retaining family physicians to rural communities.
"I was curious and wanted to help rural communities," continued Schmitz, "so through a research and service project, I was able to help empower communities to be more successful in recruiting and retaining family physicians to rural communities."
The Community Apgar project was born out of a desire to help communities understand what factors determine why some physicians choose one community over another, and what factors cause physicians to either stay or leave a community. The project helped communities showcase their own unique factors to appeal to, and match up with, the right physician for their area. Schmitz brought this work with him when he moved to North Dakota in 2016 to chair the department.
"In the end, that is really what it is about, getting the right match for the community. We have to give credit to the State Offices of Rural Health, both in Idaho and in North Dakota, because they have helped to fund this project over the past decade."
Originating as the Community Apgar Project, six different iterations of the research tool have been created, including the Health Professions Education in Rural Communities (HPERC) and the CEO Apgar. Each assessment consists of 50 questions, categorized into five sections of ten questions each.
The Community Apgar Project has been replicated in a dozen states, and in Australia, in different formats, depending on the needs of each location.
Health Professions Education in Rural Communities
One of the tools used to help in this process is the HPERC Community Apgar Questionnaire (CAQ), an objective measurement tool to assess the characteristics and parameters of rural communities related to successful health professions education.
"One of my jobs when I came here," said Schmitz, "was to engage communities in North Dakota with regard to maximizing the opportunity to teach health professions students and resident physicians in rural places, because we know the more time these individuals spend in a rural environment the more likely they are to be more competent and be confident about practicing that rural area, staying in that rural area, falling in love with the rural area, falling in love with someone in that rural area. All of these things help with retention of professionals."
The HPERC CAQ focused on five main areas: geographic, health systems and community support (is there a welcoming culture), scope of practice (what work the student would be exposed to/are more than one student working together), educational support (what communication is occurring between the University and the facility), and resourcing (housing/meal/travel support).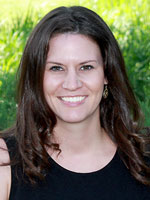 "This questionnaire looked at the entire experience in the community," said Kusler. "It is a warm fuzzy experience, or is it challenging to get there and do what the student needs to do? This is what we are evaluating."
The questionnaires are done through interviews. All of the information gathered is confidential to that community. Then the data is assessed statewide to create aggregate data.
"This helps us take a pulse of common challenges, what things are going well, and finding best practices that can be applied to each unique community," said Schmitz. "This is research but also service, helping get the right providers to the right communities."
Top and Bottom Factors
The top scoring factors for North Dakota include: having clinicians willing to precept, quality of preceptors, teaching opportunities, and facility leadership.
"We would not have a community medical school without members of the communities willing to teach our students, and that shows being the top factor," continued Sherman. "And all of these factors together tell the story that we have a community medical school with willing clinicians, quality people who can teach, and a facility leadership that supports that process of education."
The SMHS is a community-based medical school, which means students are largely training in communities throughout the state. Students spend the first 18 months of their training in Grand Forks. Then the last two and a half years of training they go to a home campus in Bismarck, Fargo, Grand Forks, or Minot. Family medicine students spend a minimum four to eight weeks in a rural community, and often they will stay there after graduation.
"We have a fantastic network of family medicine doctors across North Dakota, and often they help teach future physicians," said Sherman.
The bottom scoring factors include: travel support, housing costs, and scholarships; mental and behavioral health education (specifically, how to integrate a student in telehealth for mental healthcare), and significant other involvement (is there a way to get them involved so they/the family wants to stay when the time comes to make a decision).
CEO Apgar
The newest Apgar is focusing on CEOs at CAHs. Facility leadership is a major factor in recruiting and retaining skilled staff throughout the facility, and so taking measures to find out what factors relate to recruiting and retaining CEOs in rural areas is highly important.
Leadership change at the top affects the entire organization. Having strong leadership means having a strong healthcare facility.
"Leadership change at the top affects the entire organization," said Kusler. "Having strong leadership means having a strong healthcare facility. We were curious how the state was doing in the area of CEO recruitment and retention."
When the CEO Apgar was first introduced, rural hospitals from all over the state were reaching out and asking to participate – a rare occurrence regarding research projects. Out of 37 CAHs in the state, 24 raised their hands to participate in the study. Each participating facility consisted of an interview with the CEO, and an interview with an active member of the hospital's board of directors. Following the same pattern as previous iterations of the Apgar project, 50 factors were assessed in this study.
The results of year one of the study are currently being distributed to participating hospitals. The results will allow each facility to view their top and bottom factors and find out how they compare to the experience of CAHs within the state. The goal of this project is to find out best practices to improve CEO recruitment and retention in rural North Dakota hospitals.
Community Is the Curriculum
Schmitz never forgets the importance of the community throughout his work with medical students and family practice residents.
"The community is the curriculum," he said. "Engaging with the community and having our learners experience their education is what allows the workforce to fit into their roles after students finish the program. And we need to continue to collaborate with our other partners as well, and continue to do research and service that helps communities recruit and retain hospital leadership like CEOs. That's a conversation that is helpful in being able to train family physicians to live in and be a part of those communities."
All of the efforts showcased during the trio's presentation pointed at the recruitment and retention spectrum – from training students in rural health through ROME, to empowering rural facilities to focus on factors that make training a positive experience, to researching what factors make a rural community attractive for healthcare workforce. While there may not be a one-size-fits-all approach to healthcare workforce issues, these tools provide support to help each community find their best solutions.
---