Rolette County Public Health District Rolls Across the County
By Jena Pierce on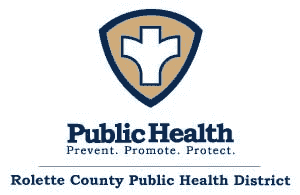 The Rolette County Public Health District's (RCPHD) new mobile health unit is providing modern day house calls. The 38-foot customized RV allows staff of RCPHD to travel across the county, in a two-exam room clinic, reception area, and bathroom on wheels. This innovation is allowing more people the opportunity to get various vaccinations, providing fluoride varnish for children, and education on preventative healthcare.
Barb Frydenlund, administrator of RCPHD, shared her excitement of this new endeavor.
"Fifteen years ago, I went to a conference and there was someone talking about their 'health on wheels' program. That caught my attention. We are a county with a lot of housing units, we have very little infrastructure, our schools are overflowing, and there isn't room for us. A mobile health clinic would be amazing."
Rolette County Public Health District
Rolette County is located in north central North Dakota, near the Canadian border. The sparsely populated county includes the Turtle Mountain Band of Chippewa Indian Reservation.
Public health is relatively new to Rolette County. Merle Boucher, a then Rolette County legislator, led the way for all land in North Dakota to be covered by local public health services by 2001.
"We were one of the last four counties to have local public health," said Frydenlund. "We are a very unique county. We have a large Native American reservation. We have a lot of health needs and very limited taxable land, and a comparable low tax levy on that land. We have a lot of high needs and very little money."
RCPHD was first established in 2001. When Frydenlund joined RCPHD, in 2003, they had two staff members and an annual budget slightly over $100,000. Twenty years later, they have 16 employees and a budget of just under $2 million.
"I have been blessed to have a very supportive board of health," said Frydenlund. "The top champion has been Wade Burgess, a University of North Dakota (UND) alumnus. He was a physical therapist and director of physical therapy at our local hospital. He was the only Rolette County Board of Health president until he passed away in 2020. He was instrumental in the development of public health in the county. Together we had a big vision and we made things happen. It helped bring our program to where it is today."
Frydenlund also credits Dr. Duane Glasner, RCPHD health director, and a retired long-term physician in the county, for much of the success of RCPHD. And with their support, she was able to dream about one day having a mobile health unit to help serve the residents of the county.
Laying the Ground Work
Frydenlund knew they couldn't afford a project of this kind, but always kept the idea in the back of her mind. She reached out to staff at the UND Center for Rural Health (CRH) to find out what resources might be available. And when she presented at various state health department meetings, she would talk about the needs of the county and the lack of funding and infrastructure available. Brenda Weisz, the chief financial officer for the North Dakota Department of Health listened.
In October 2020, Weisz called Frydenlund and shared that the state had $300,000 in Coronavirus Aid, Relief, and Economic Security (CARES) Act funding they wanted to give to RCPHD to put toward a mobile health unit, if they were still interested in pursuing the project. Frydenlund quickly accepted.
Clinic on Wheels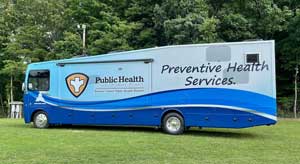 The mobile health unit has two slide outs to create a reception area; two exam rooms, with doors for privacy; a bathroom; and is accessible for people with disabilities. It was designed and built by Mission Mobile Medical, based out of North Carolina.
Frydenlund commented that the Mission Mobile Medical staff was fantastic to work with. "They really held my hand through the planning and implementation of our mobile clinic."
The mobile health unit is an extension of the clinics, located in Rolla, and a satellite clinic in Dunseith, North Dakota. Every supply at the clinic, is in the mobile unit. It has a generator, wi-fi capability, and a vaccine quality refrigerator.
The unit was delivered on August 3, 2021, and has been on the road ever since.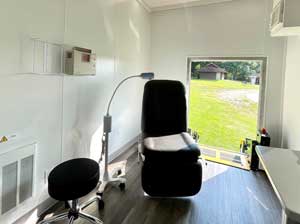 "It has been used primarily for vaccinations, at this point," said Frydenlund. "We have an aggressive Health Tracks program through the North Dakota Department of Health & Human Services, providing preventive health for newborns and individuals up to age 21, who are eligible for the North Dakota Medicaid program. That program will use this heavily. We also have one of the largest dental fluoride varnish programs for students, and this unit will be used for those visits. The uses are endless once you have it and can see what can be done."
Barriers
The biggest barrier to service for the county is transportation. Rolette County has a relatively young population, with a high poverty rate. Forty percent of children live in poverty. The unemployment rate is around 13% in the county. Transportation has been a barrier to care and has accentuated the health inequities within the county.
We are meeting the people where they are, to take care of them.
"We could see we needed to do more to reach our residents," explained Frydenlund. "Someone might have a car, but they might not have gas money, or they have a flat tire. Or they do not have a vehicle. We decided we needed to go to the people, since they could not come to us. I look at it as a full circle from when physicians used to make house calls. We are meeting the people where they are, to take care of them."
Rural Mobile Clinics
Previously, RCPHD had an established schedule of outreach clinics set up throughout the county, usually at a local office or where ever they could find space. Supplies would have to be packed, transported, and unpacked. When staff would go into a school, they were displacing someone from an office, or using a school library. The mobile health unit has simplified everything. A monthly schedule is shared in the local newspaper and on RCPHD's Facebook page, so people know when and where they can be seen locally.
We have been in parking lots of grocery stores, schools, housing units, anywhere we can park.
"We have been in parking lots of grocery stores, schools, housing units, anywhere we can park," shared Frydenlund. "This has also enhanced the opportunity to provide public health education to students, when we visit schools. One of the programs we will be doing focuses on epidemiology/immunology education in some of the schools, to help students understand vaccines, how a virus happens, mutation, and how it all links together."
The mobile health unit is usually staffed with a registered nurse, a licensed practical nurse, and a support staff member. RCPHD has five registered nurses and one licensed practical nurse on staff. The services offered at each location depends on who is staffing the unit. When the mobile unit is scheduled to be in the community, there are certain services that are offered. One day it was at a football game and offered vaccinations, including for COVID-19 and shingles.
Mission and Services
The RCPHD mission is to prevent disease, promote healthy lifestyles, and protect the environment.
"At the beginning, our biggest mission was to increase immunization rates in Rolette County and to make it very accessible," continued Frydenlund. "Within public health, we do not decline services based on an inability to pay. There was not a lot of preventative health happening. It was a foreign concept in the county, that we have spent 20 years growing. Our immunization program has grown tremendously, for children and adults. We have continued to add programs to meet needs of our county."
Current services have grown to nine major areas which include:
Public health
Immunizations
Health Tracks
School health
Tobacco/alcohol and opioid prevention
Laboratory testing for HIV, sexually transmitted diseases, and Hepatitis C
Special Supplemental Nutrition Program for Women, Infants, and Children (WIC)
Maternal child health
Environmental services
Anyone in the county can use RCPHD services. When possible, they charge a fee for service and bill third party insurance companies. Funding comes from multiple sources. Two-thirds of funding comes from grants or fee for service. Seven percent comes from state aid while 5-7% is the local mill levy.
North Dakota law limits the local mill levy to five mills for public health. In Rolette County, that is $112,000 annually. In some counties, one mill is that much.
Frydenlund shares "There is no equity in state aid or mill levy for North Dakota for public health. Inequities in health, and for healthcare funding go hand in hand."
Needs of the Community
"Barb contacted me early on about their needs," said Brad Gibbens, acting director at CRH. "One thing we do to help communities is seek funding options. Unfortunately, at that time options were limited so the CARES Act money was great timing. Access to quality health services and outcomes is a goal, so the mobile clinic idea is a great way to bring services to people when they can't go to the service. It is very practical."
For public health, you need to look at the culture of the community, being culturally competent, and knowing what the needs are.
"The Center of Rural Health has been so supportive of us," Frydenlund continued, "and we feel so connected. For public health, you need to look at the culture of the community, being culturally competent, and knowing what the needs are. One size does not fit all. The needs are very different."
It was the needs of the county that first attracted Frydenlund to the idea of a mobile health unit. She reflects on how this happened.
"This has been a 15-year professional dream that came true. Wade passed away two days before we received word we would get the funding. We will have an open house for this unit, plus a newly remodeled clinic. The mobile clinic will be dedicated to Wade. We are naming it 'Wally', which was Wade's nickname. Without his support all along, this would not be happening."
---