2021 Fall Flex/CAH Quality Network Newsletter
Items in this issue include:
---
Rural Health Clinic (RHC) Network

A new network for certified RHCs throughout the state of North Dakota has been developed through the Center for Rural Health (CRH) at the University of North Dakota School of Medicine & Health Sciences. The North Dakota RHC Network will make a difference for healthcare in the state by bridging knowledge and expertise across health systems.
"The Rural Health Clinic Network will be an opportunity for RHCs to share information about best practices, Conditions for Certification (CfC), and any other common themes among North Dakota RHCs," said Anna Walter, project coordinator for the Network.
The RHC Network was created this summer to provide a platform for North Dakota RHCs. Participants will receive support for CfC, quality and performance improvement, and to improve communication and collaboration among healthcare providers to best serve the rural health organization and its communities.
There are 54 RHCs in North Dakota. The model for the RHC Network is based off of the Critical Access Hospital (CAH) Quality Network that has been in existence at CRH since 2007. The CAH Quality Network has been wildly successful and has all 37 CAHs in the state as members.
Goals
Assist RHCs to meet CfC for compliance
Allow access to an online virtual library of resources and network webpage
Provide RHC-focused educational opportunities
Offer a platform for shared learning across North Dakota RHCs
Benefits
Central coordination/liaison working on behalf of RHCs with stakeholders
Direct technical assistance for RHCs to improve healthcare
Assistance for RHCs with identification of top statewide needs
Access to timely information that is applicable to RHCs
RHC-focused educational opportunities
The RHC Network is funded in part by the Flex Program and State Office of Rural Health. The North Dakota Medicare Rural Hospital Flexibility (Flex) Program is a federally funded Health Resources and Services Administration grant that provides for the creating of rural health networks, promotes regionalization of rural health services, and improves access to hospital and other services for rural residents.
The North Dakota State Office of Rural Health program is a federal-state partnership that helps rural communities build their healthcare services through collaborations and initiatives with a wide range of partners across the state, with funding provided through the Federal Office of Rural Health Policy.
---
National Rural Health Day
Celebrate Rural Health
National Rural Health Day has been a staple for over a decade and is more important than ever. Every year, since 2011, the National Organization of State Offices of Rural Health sets aside the third Thursday of November to celebrate rural health across the country. This year, we want you to join us in celebrating this national movement.
Show Your Support
Think about how your organization can celebrate National Rural Health Day, show your support, and tell us your plans by November 5. By signing up to show your support, your facility will be included on the CRH's National Rural Health Day website. Even if you don't yet know what you want to do to celebrate, please fill out the form to let us know that you support this day of recognition.
What is National Rural Health Day?
This is an opportunity to "Celebrate the Power of Rural" by honoring the selfless, community-minded spirit that prevails in rural America. This day is an opportunity to not only showcase the efforts and innovation of rural healthcare, but also to ensure rural healthcare providers know how valued they are, to their communities, their state, and the country.
We challenge our healthcare organizations and facilities to find a way to celebrate and show support for National Rural Health Day on November 18! If you share anything on social media, use #PowerofRural to join with the thousands of others who will also be celebrating rural health.
Past Events in North Dakota
In previous years:
One hospital has local children color the coloring page on our website and hung them up in the facility
Another facility hosted a Scrubs Camp on National Rural Health Day
Others have hosted staff luncheons/receptions and taken staff photos
This year, CRH and North Dakota Rural Health Association plans include:
Questions
Contact Kylie Nissen at kylie.nissen@UND.edu or (701) 777-5380.
---
Rural Healthcare Peer Exchange and Professional Development Program
The Flex Program offers the Rural Healthcare Exchange Program to provide opportunities for staff serving CAHs of North Dakota to learn from their peers. The program provides travel support for individuals or small groups to meet with similar entities from other areas of the state and share information, ideas, and successful approaches to improving quality and access to healthcare services.
Who is eligible?
The program is open to staff and board members serving North Dakota CAHs, rural non-profit EMS agencies, and network representatives serving rural health organizations. The program does not include visits with consultants, conference travel, or training events. Funding is allocated on a "first-come, first-served" basis for applicants meeting the criteria. The mentoring program ends when available funds are exhausted.
How does it work?
Applications may be completed here; applicants will receive confirmation, and approval or denial, of the proposed exchange within seven business days of receipt of the application. All travel must be completed by August 15, 2022.
What happens after receiving the approval?
Applicants proceed with their proposed exchange based on the approved application. Following the exchange visit, the applicant submits an invoice, receipts, and a completed outcome report to the North Dakota Flex Program for reimbursement.
We had four facilities utilize this program last year for various training:
Learning payroll
Overview of job roles in Quality Assurance and Infection Control
Review palliative care services
Telemetry/rhythm interpretation class to expand knowledge on reading and interpreting EKG strips
Review administration roles and CAH services
---
Financial/Operation Improvement
Upcoming Technical Assistance for COVID-19 Related Accounting Questions
From October 11-22 (or until funding runs out), have one person representing your CAH submit your COVID-19 related accounting question(s) to prf@eidebailly.com and address the subject line as "ND Office of Rural Health FAQ."
If submitting more than one question, you must prioritize the main question you'd like answered. Additional questions beyond your main question may or may not be answered depending on availability of funds.
Questions must be overarching so they may benefit all North Dakota CAHs.
Eide Bailly will reply directly to you with a response to your main question. If another CAH has already asked that question, Eide Bailly will inform you and go to your next question on your submission.
After October 22 (or funds have been exhausted), the CRH will work with Eide Bailly to provide a final FAQ to all North Dakota CAHs with all questions and answers.
Please let me know if you have any questions about the general process. Otherwise please compile your question(s) and send to prf@eidebailly.com with the subject line "ND Office of Rural Health FAQ" beginning Monday, 10/11/21
SHIP (Regular)
The regular SHIP funding year runs June 1, 2021 – May 31, 2022. Continue working on your selected activities. A December mid-year check-in will occur in conjunction with the new hospital application form/purchasing menu to select your 2022-2023 activities.
SHIP American Rescue Plan
SHIP American Rescue Plan subawards have been issued to the 26 North Dakota CAHs who elected to accept the funding. This funding focuses on COVID-19 testing and mitigation activities that fall within the time frame of July 1, 2021 – December 31, 2022. It also goes retroactively for allowable expenses incurred from January 1 – July 1, 2021. Quarterly reporting and reimbursement requests are required and will be facilitated by CRH.
---
Quality Improvement
Antibiotic Stewardship Annual Facility Survey
CAH Antibiotic Stewardship Programs are required by the Federal Office of Rural Health Policy and your eligibility for receiving Flex funded activities along with a CMS Conditions of Participation (CoP) ruling.
Reporting deadline is March 1, 2022 for calendar year 2021 on the secure website for the Centers for Disease Control National Health Safety Network.
Is your facility ready to report on the following elements that make up the Hospital Antibiotic Stewardship Annual Facility Survey?
Leadership Commitment: Dedicating necessary human, financial and information technology resources.
Accountability: Appointing a single leader responsible for program outcomes. Experience with successful programs show that a physician leader is effective.
Drug Expertise: Appointing a single pharmacist leader responsible for working to improve antibiotic use.
Action: Implementing at least one recommended action, such as systemic evaluation of ongoing treatment needs after a set period of initial treatment (i.e. "antibiotic time out" after 48 hours).
Tracking: Monitoring antibiotic prescribing and resistance patterns.
Reporting: Regular reporting information on antibiotic use and resistance to doctors, nurses and relevant staff.
Education: Educating clinicians about resistance and optimal prescribing.
To assess for your readiness for the core elements of the Hospital Antibiotic Stewardship Program, complete this assessment and we will reach out to you to go over results and opportunities for improvement.
---
Workforce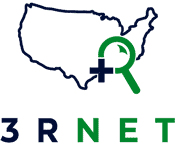 3RNET Undergoes Major Website Redesign
3RNET is a national job board that has been a resource for connecting healthcare workforce to rural and underserved communities for over 25 years.
Throughout these years, the website has grown and adapted with its job seekers and employers. The latest adaptation is a new logo and website. Healthcare employers who have been using the site for many years will notice a brand new look. They will also notice that the core functions of the site remain the same, while still adding great improvements.
Employers will now notice that, once a facility is approved by the North Dakota page manager Stacy Kusler, jobs can be posted without waiting for approval. Another improved feature is the "referrals" tab. Once a job is posted, job seeker profiles will be sent to the employer directly through the 3RNET account. Job seekers whom the employers wish to stay in contact with can be moved to "My Professionals" tab, where notes can be made regarding contact history, interests, etc. This new feature allows 3RNET to be a one-stop shop for job seeker interaction and communication. Finally, employers can enjoy the "R4R Resource Center" (Recruitment for Retention) tab, where guides, marketing resources, and Apgar Factors can be found.
Posting open jobs on 3RNET allows the workforce specialist to be aware of open positions, and promote North Dakota vacancies through general candidate communication, job fairs, and presentations to health degree programs throughout the state. To learn more about increasing job vacancy exposure, email Stacy Kusler, CRH workforce specialist.
---
There's still time to register for the 3RNET Recruitment for Retention Academy!
CRH is happy to offer the 3RNET Recruitment for Retention Academy to all of our North Dakota healthcare facilities at NO CHARGE! This is a $500 savings PER REGISTRATION!
Sessions begin October 5. All sessions are recorded and available to all registrants. Register today so you don't miss out on any session materials or communication!
Find more information at 3RNET Recruitment for Retention Academy. Click "register now to attend" and enter code: CRH4U.
---
Medicare Beneficiary Quality Improvement Program (MBQIP) Data Reporting Reminders & Resources
---
Upcoming Meetings
Looking for a particular meeting? Visit the North Dakota Healthcare Partners Events Calendar and search our upcoming events for more information and to register then add to your calendar.
North Dakota RHC Network Quarterly Call (first one!)
CAH Quality Network Region Meetings (virtual)
2021
East Region: November 16
West Region: November 18

2022
East Region: August 16
West Region: August 18
CoP Webinars:
December 2: Nursing CoP
March 31, 2022: Nondiscrimination, OCR Section 1557, Interpreters, Taglines, Patient Rights and CoP
May 26, 2022: Medical Records CoP
August 25, 2022: Ligature & Suicide Risks: Complying with CMS CoP and TJC Requirements
Registration and more information for these webinars can be found at the North Dakota Healthcare Partners Events Calendar. Simply search "CoP" in the Upcoming events page.
CAH Quality Network CoP Meetings
December 15
March 24, 2022
June 23, 2022
CAH Quality Network DON Networking Meetings
November 30
February 17, 2022
March 17, 2022
April 21, 2022
May 19, 2022
POLST Webinars: Register here (no longer available online)
October 20
November 10
December 15
January 12, 2022
February 9, 2022
March 9, 2022
April 13, 2022
---
November is National Hospice and Palliative Care Month
Programs across the country are reaching out to raise awareness about hospice and palliative care. This year's theme is "It's About How You Live." Palliative care brings this holistic model of care to people earlier in the course of a serious illness (Palliative Care or Hospice Care?).
Hospice is not a place but high-quality care that enables patients and families to focus on living as fully as possible despite a life-limiting illness. Palliative care and hospice programs provide pain management, symptom control, psychosocial support, and spiritual care to patients and their families when they are facing serious illness. These programs combine the highest level of quality medical care along with the emotional and spiritual support that families need most when facing a serious illness or nearing the end of life.
CRH offers virtual training, mentoring, and resources to communities that expand North Dakota Rural Community-Based Palliative Care (no longer available online). CRH also offers timely, virtual Project ECHO sessions with CME that can be viewed on a person's own schedule, Organizing Palliative Care for Rural Populations TeleECHO. Portable medical orders, aware, education, and implementation (POLST) live sessions are held monthly. Register here (no longer available online).
For more information, email Nancy Joyner, MS, CNS-BC, APRN, ACHPN® at nancy.joyner@UND.edu.
---
Save the Date – Conferences
2022 North Dakota Annual Flex Conference for CAHs and RHCs
April 13-14, 2022 at Alerus Center, Grand Forks, North Dakota
The annual Flex Conference is an opportunity for all CAHs and RHCs to come together in person to discuss pertinent issues regarding healthcare in North Dakota. You can expect to hear presentations and updates from healthcare experts on best practices for both CAHs and RHCs. All CAHs and RHCs are encouraged to send staff. CEUs will be available for this conference.
Tentative Agenda:
April 13, 2022
1:00 – 4:30 pm: Palliative Care Workshop
April 14, 2022
8:00 am – 4:00 pm
RHCs and CAHs convene together for a presentation from 8:00 – 9:00 am.



RHCs: Full day practice manager workshop beginning at 9:00 am.
CAHs: Full day quality, statewide updates, and more, beginning at 9:00 am.
The Flex Program will provide financial assistance for round-trip ground mileage between your organization and the meeting location; one vehicle per North Dakota RHC and one vehicle per CAH.
Contact Information:
RHC Network: Anna Walter, anna.walter@UND.edu
CAH Quality Network: Jody Ward, jody.ward@UND.edu
---
Did You Know?
The Flex program offers a variety of tools and resources:
A free online repository of CAH-specific resources
A one-stop shop to locate resources, protocols, and best practices related to CAH quality
Maintained by the North Dakota CAH Quality Network
Email Jody Ward at jody.ward@UND.edu for login information.
Shared Calendar
The North Dakota Healthcare Partners Events Calendar is a simple and streamlined format designed to connect individuals in the healthcare and community service fields to events and educational opportunities from across the state. Our partners are committed to offering high quality on-site and virtual education, and this one-stop shop format allows us the opportunity to effectively coordinate events and enhance their visibility.
---
Are You New to Your Role or Organization?
Please reach out to Program Director Jody Ward of the North Dakota Flex Program for a one-hour orientation on the Flex Program and the CAH Quality Network.